A Message From Lady Be Good…
"The Toronto wedding and event industry has struggled immensely during the Covid-19 pandemic. As we start to get back to performing, we are acutely aware of the role we play in keeping everyone safe and keeping events alive. Nothing matters more than the health and safety of our team and our clients. We prioritize our Covid-19 protocol so that we can get back to what we love doing most: playing music."
Kat Ward, Creative Director + Vocalist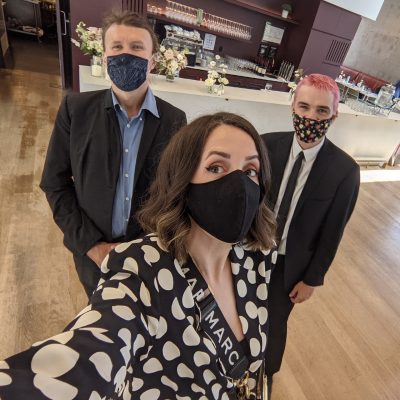 Vaccinated
Every musician on our team is fully vaccinated against Covid-19 and more than 14 days out from their second dose.
Rapid Tests
Rapid Covid-19 tests are given to every team member that will be onsite both before and after every event.
Masking
We strictly adhere to all masking and distancing guidelines as set out by the provincial government.
Rescheduling Policy
As of April 2020 Lady Be Good productions implemented a rescheduling policy and extended it to all existing and future clients.
If the Client needs to reschedule the Event, Band will use reasonable commercial efforts to accommodate one (1) Event Date change in Band's sole discretion, subject to receipt of the deposit and provided the contract has been signed. The Band requires a minimum one (1) month notice prior to the original Event Date to consider any such change request and if Band is unavailable for the new Event Date the deposit is forfeited. If Band is able to confirm the new Event Date, the deposit will act to hold the new Event Date. Any such new Event Date must be within twelve (12) months of the original Event Date.
We are always happy to chat about our health and safety protocol with respect to Covid-19. If you are planning a wedding or event in Toronto and you would like to discuss having the band onsite, just drop us a line.