2019
Private Event

Royal Ontario Museum

Private Event

6:00pm

Niagara Falls, ON

Friday Night Jazz

7:00 - 11:00pm

Ripley's Aquarium of Canada

Valentine's Dinner @ Ripley's Aquarium

6:00 - 11:00pm

Ripley's Aquarium of Canada

Lady Be Good Trio @ Sassafraz

9pm - 12am

S-Cafe (Sassafraz) 100 Cumberland St, Toronto, ON M5R 1A6

Wedding

Wedding

Wedding Shower (Private)

12:00pm

Ancaster Mill

Corporate Event (Private)

5:30pm

Art Gallery of Hamilton

Sassafraz (S-Cafe)

9:00pm

100 Cumberland St, Toronto, ON M5R 1A6

**Note: This will be an intimate trio (voice, keys + bass) performance.

Friday Night Jazz @ Ripley's Aquarium of Canada

7:00 - 11:00pm

Wedding

6:00pm

Private Event

Sassafraz (S-Cafe)

9:00pm

100 Cumberland St, Toronto, ON M5R 1A6

**Note: This will be an intimate trio (voice, keys + bass) performance.

Sassafraz (S-Cafe)

100 Cumberland St, Toronto, ON M5R 1A6

**Note: This will be an intimate trio (voice, keys + bass) performance.

Wedding (Private)

12:30pm

Private Event (Instrumental Trio)

5:30pm

Private Event (Trio)

5:00

Wedding (Private)

5:45pm

King Edward Hotel

Wedding (Private)

6:00pm

Royal Conservatory of Music

Friday Night Jazz @ Ripley's Aquarium of Canada

7:00 - 11:00pm

288 Bremner Blvd, Toronto, ON M5V 3L9

*** Featuring Laurel Tubman from Hey Love on vocals

Wedding (Private)

4:00 - 6:00pm

Toronto, ON

Wedding (Private)

4:45 - 6:45pm

Toronto, ON

Wedding (Private)

11:00am - 3:00pm

Toronto, ON

Wedding (Private)

7:00pm - 12:00am

Toronto, ON

Wedding (Private)

5:00 - 8:00pm

Toronto, ON

Wedding (Private)

5:45 - 7:45pm

Toronto, ON

Sassafraz (S-Cafe)

9:00 - 11:30pm

Featuring Kalya Ramu on vocals

Wedding (Private)

7:00 - 11:00pm

Kingston, ON

Wedding (Private)

4:00 - 6:00pm

Mississauga, ON

Wedding (Private)

5:00 - 11:00pm

Richmond Hill, ON

Wedding (Private)

6:00 - 9:00pm

Toronto, ON

Corporate Holiday Party

1 - 4pm

Mississauga, ON

Wedding (Private)

4pm - 12am

Stratford, ON

Private Event

7:00 - 11:00pm

Ripley's Aquarium

Friday Night Jazz @ Ripley's Aquarium of Canada

7:00 - 11:00pm

Ripley's Aquarium of Canada

Wedding (Private)

4:30pm - 11:30pm
Toronto Jazz Band Lady Be Good Announces 2023 Residency at Ripley's Aquarium of Canada
This year you can catch Toronto jazz band Lady Be Good performing on the second Friday of every month at Ripley's Aquarium of Canada for Friday Night Jazz. Each month will feature one of our incredible vocalists on a rotating schedule. Check our calendar for more details. Tickets available on the Ripley's Aquarium of Canada website.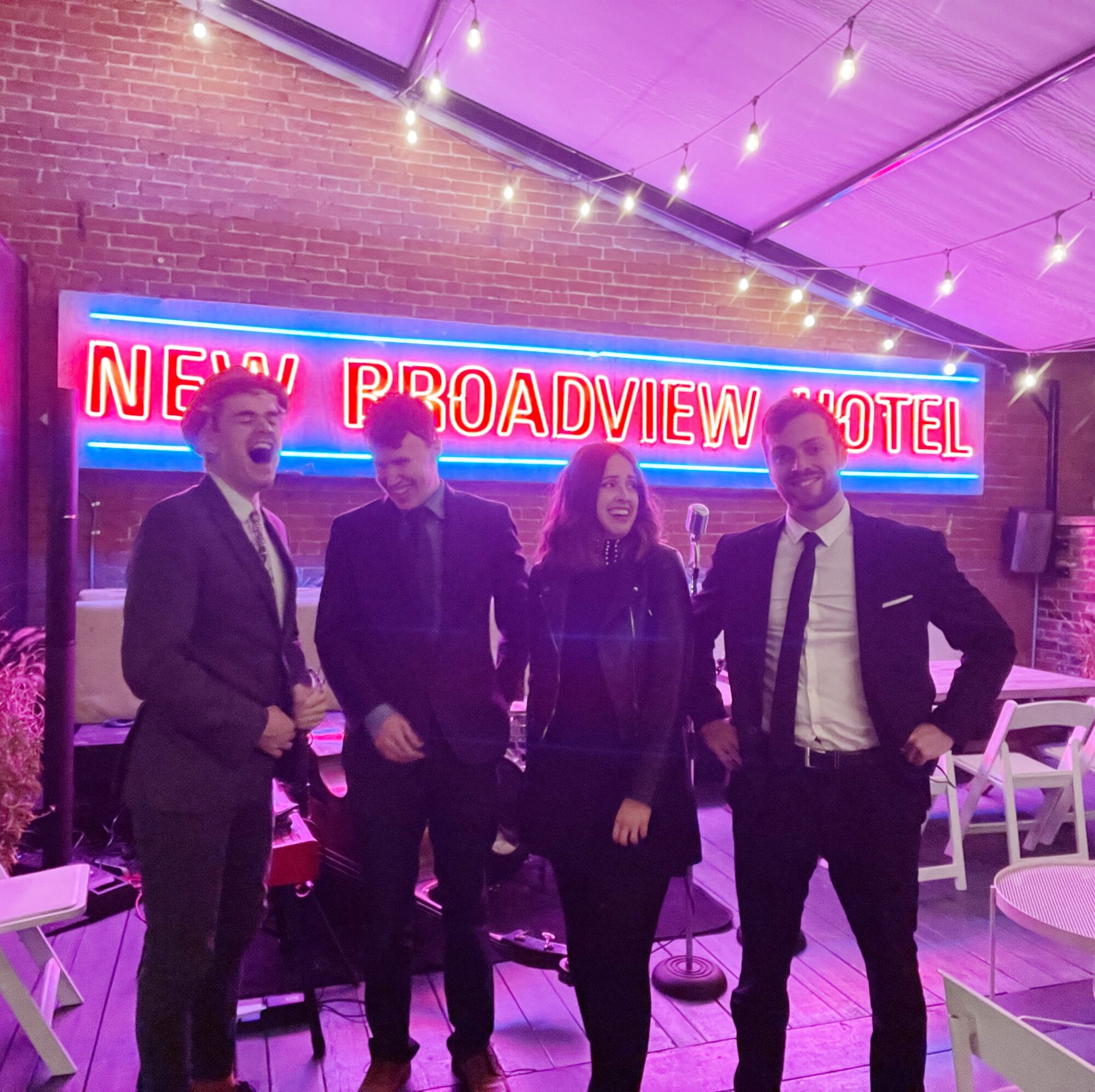 Now Booking 2023/2024 Weddings and Events
Lady Be Good is available for weddings of all sizes, corporate events, corporate galas, private parties, theme parties, cocktail hour music, dinner music, dancing and more.
Inquire early for events on Saturday and Sunday from April to October for best availability. Standard pricing applies year-round, no additional fees for peak days (statutory holidays excluded). Pricing includes travel within 1 hour of downtown Toronto. Additional travel pricing is available on request.
Why have a jazz band at your event?
Jazz music is diverse and can be tailored to fit a variety of moods and settings. Whether you want a smooth and relaxing background sound or an upbeat and energetic performance, our style will deliver. Jazz is often associated with a sophisticated and elegant atmosphere, which can help create a classy and memorable event. It can also be more laid-back and casual depending on the style of jazz being played. Our style is a mix of jazz, pop and RnB that is perfect for any event.
Toronto jazz band Lady Be Good offers bands of all sizes for a variety of events. Including: instrumental jazz duos, jazz trios for weddings, jazz bands for corporate events, jazz vocalists, 5-piece dance band and more.